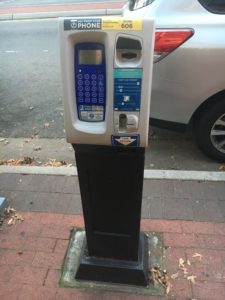 With North Carolina State University on one side and restaurants and retail bordered by neighborhoods on the other, Hillsborough Street serves many stakeholders and needs. The street is currently in the last few months of a two-phase streetscape revamp that's buried overhead cables and added traffic circles and bike lanes along with other improvements. One issue still a sore spot for the street, however, is parking – or rather it's sparsity. Existing on-street, metered parking is in demand by students, businesses and other visitors to the street, and spots can be difficult to find when school is in session.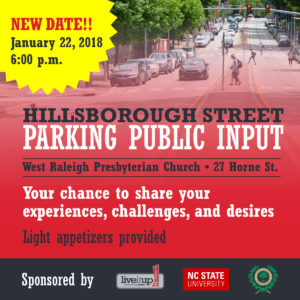 The Hillsborough Street Community Service Corporation (HSCSC) runs the municipal service district that provides various services for Hillsborough Street. The non-profit has been contemplating parking solutions and is now partnering with the university and the City to address the issue. With an eye to the Kimley Horn Park+ Model that NC State is using for their on-campus parking, HSCSC is commissioning a large-scale study of current parking patterns on the street and adjoining blocks.
As part of the study, the community will have a chance to share their experiences and ideas with the professionals and talk about their areas of concern, parking needs, and ideas for improvement. The public engagement meeting is planned for Monday, January 22, 2018 at the West Raleigh Presbyterian Church at 27 Horne Street.