The path to producing a resonant, authentic sound is the inspiration behind Sonorous Road Theatre. Located in the Royal Bakery Building on Hillsborough Street, the theatre and studio space produces original shows and offers workshops and coaching for all ages in acting, theatre, and film production. The 95-seat venue also rents out its black box space to other local theatre companies.
Performances this month include the musical Joseph And The Amazing Technicolor Dreamcoat and SR's original production House of the Fury, an interactive, experimental haunted house experience where audience choices directly impact the action. Premiering in December, Gift of the Magi is an immersive production SR founder, Michelle Wells, hopes will become a Raleigh Christmas tradition.
Raleigh native Michelle is a professional actor, whose career started with a BA in theatre from Meredith College. After working in London, New York, and Boston for several years, Michelle returned to Raleigh in search of venues to produce her own shows as well as coach actors and teach workshops in production and film. When she couldn't find either, she decided to establish her own theatre and studio, and Sonorous Road Theatre was born.
The impetus to create Sonorous Road goes deeper than a job, though. Being away from acting for a time in the early 2010s made Michelle feel that she had lost an essential part of her authentic self. When a return to theatre made her feel complete again, she found herself on a mission to help others express their own authentic voices. "Every person has this ability to make amazing sound in the world. If we just speak up for what we believe in and aren't ashamed of who we are, then we'd all be so much healthier for it" Michelle says. "I was always told I talk too much, I'm too whiny, I'm too something. I wanted to create a space for people where they didn't feel they were 'too' anything."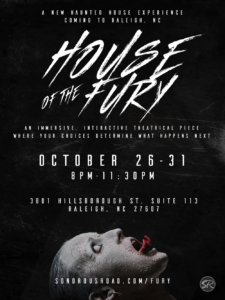 The idea of unleashing an authentic voice also determined the name for the new venue. Michelle decided on the word 'sonorous': the ability to produce a deep, resounding sound, and added 'road' because the path to finding one's voice is a journey. One Michelle hopes to help with and take together with her students.
Sonorous Road now offers adult and youth classes and coaching, summer camps, track out camps, after-school classes, and young filmmakers' workshops. Programs often culminate with a student production to show off their new-found skills. This fall, Cinderella, Alladin, and Mulan will be staged by class graduates.