By Ann Sides
– Two reconstruction-era homes along Oberlin Road may be restored and re-purposed as offices for Preservation North Carolina (PNC).  It's a project warmly supported by the surrounding community.  However, further progress awaits a City of Raleigh decision that could be a year away.
The stretch of Oberlin Road between Smallwood Avenue and Wade Avenue where the houses are located was once the center of Oberlin Village, a community founded by freed slaves that grew into a thriving community of homes, churches, and small businesses. Development erased much of Oberlin Village, but two craftsman-style houses on the 800 block of Oberlin evoke the area's proud heritage.
Preservation NC is acquiring the Willis T. Graves house –a neighborhood landmark with its Queen Anne style veranda and gables—from the developer who owns the land beneath it.  The organization, whose mission is preserving historic properties all over the state, wants also to acquire the nearby Plummer T. Hall house. The Hall house, which dates from the 1870s, is a designated historic home and is currently owned by the City of Raleigh.  It is located across from the Community Deli.  Myrick Howard, executive director of Preservation NC, explains that his organization currently leases its headquarters office downtown. Preservation NC would like to buy the deteriorating Hall house, move it farther back from Oberlin Road, relocate the nearby Willis Graves house onto the same lot, restore both buildings, and add an addition at the back to accommodate office equipment and files.
"It all depends on getting our getting our bid with the city accepted," he says.
Friends of Oberlin Village, a community organization devoted to preserving the area's history and heritage, has strongly supported Preservation NC's proposal.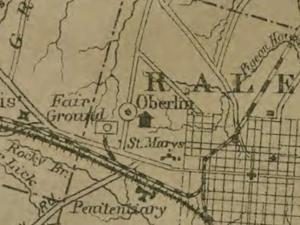 "FOO would be thrilled if PNC got those two houses and put their offices into them,"  according to local historian and Friends of Oberlin member Ruth Little.
Stacey Lundy, a city policy analyst, says the city is "currently preparing a request for proposals to sell the house to the most qualified buyer who is able to restore it. Staff anticipates this will be resolved within the next
year. Our plan is to find the best candidate."
Preservation NC's Myrick Howard is optimistic that his organization will be that "best candidate" the city is seeking. The city's asking price of $266,000 for the .37 acre lot, and a 600 square-foot house that will require expensive restoration appears unlikely to attract many other offers. If so, he hopes the process moves more quickly.
"We're hoping we can resolve this before the lease on our present office runs out."