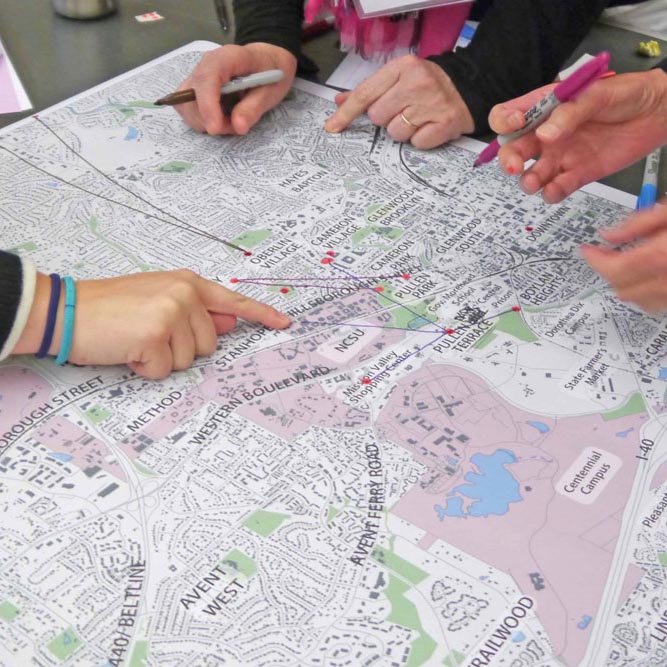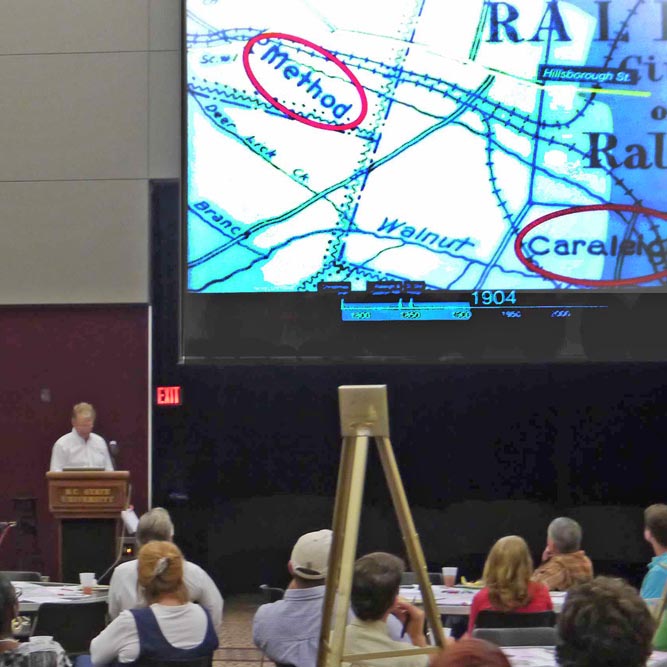 Uncovering Southwest Raleigh Principle Collaborators
City of Raleigh
Thomas Crowder
Dwayne Patterson
James Sauls
Grant Meacci
Ken Bowers
Travis Crane
Marchell Adams David
Kay Crowder
Mayor McFarlane and Raleigh City Council
North Carolina State University:
College of Design
Celen Pasalar, PhD
Arthur Rice
George Hallowell, PhD
Carter Crawford, PhD
Jacqueline Harris Stephen Lindberg
Kofi Boone
David Hill
Traci Rose Rider, PhD
Kevin Berry
Michael Domanski
Abe Drechsler
Belle Farish
Meredith Jurgensen
Bob Massengale
Jennifer Peeler
Sonika Rawal
Rachel Steinsberger
Tyner Tew
Darneka Waters
Zahra Zamani
The Uncovering Southwest Raleigh Project
The Uncovering Southwest Raleigh (USWR) project was launched in 2012 as a collaboration between the City of Raleigh, NC State University, and the SouthWestRaleigh community. The objective was to find answers to key questions about the area:
How can the unique characteristics of SouthWestRaleigh and its neighborhoods be identified and preserved while motivating more economic development in support of the growth of the City?
Which assets contribute to the identity of this area?
How do its residents and businesses perceive these assets?
Nine researchers, 18 graduate students, and six City officials and staff participated in the USWR project in a multi-disciplinary effort with participation from the departments of architecture, landscape architecture, graphic design, community psychology, finance and real estate, and planning.
Community Participation included 19 neighborhood- and CAC meetings, two large public forums, 13 meetings with community organizations, and seven community events. Feedback from these community sessions contributed data to the project's three goals:
Goal 1 – Measuring Perception: Understanding past, current, and future conditions, identifying perceptions of residents and businesses of SWR
Goal 2 – Setting a Baseline: Creating a database of assets and perceptions, identifying forces of change versus stabilizing influences.
Goal 3 – Moving Forward: Providing a mechanism for stakeholders to understand the forces of change influencing SWR's identity.
The tremendous amount of data collected through these efforts showed that SouthWestRaleigh identified three central components to its identity: Connected, Diverse, and Green:
Connected: SWR has convenient access to necessities and amenities, such as shopping, restaurants, entertainment, etc.
Diverse: SWR is diverse in many ways: ethnicity, culture, age and experience of its residents; economic and social opportunities; urban to rural environments; variety of neighborhoods; diversity of shopping, restaurants, and entertainment. Neighborhoods, NC State and Meredith College, music, art, culture, entertainment, and sports provide a strong sense of community. Walkable and bike-able environments allow for community interaction.
Green: SouthWestRaleigh's extensive greenway system and parks, lakes, and trees contribute to walkable, stable neighborhoods.
Future developments the communities wished to see also fell within the three parameters: Residents wished for increased access to services and transit and reduced traffic; are in support of continuing to build out the greenways and parks system; and they welcome more housing choices for the region.
This website is a continuation of the tremendous effort built by the NCSU and City teams to showcase SouthWestRaleigh's assets, build community and connectedness and provide a platform for dialog around, about, and for the area.