Image: Student housing construction on the site of the former Velvet Cloak Inn.
~ By Clodagh Bastian
Raleigh's popularity is spurring growth and increased density across the city. While some areas like Briar Creek or portions of North Raleigh are expanding on previously undeveloped land, in others, older structures are disappearing to make way for new development.
With the reshaping of our city, we have a unique opportunity to contemplate how we want to balance that new with the old. What do we want to hold on to, what let go? What gives our city its essence, its individuality, its 'Raleighness'?
Raleigh's architecture is mostly new. Well over two-thirds of the city's structures have been built since 1980, but Ken Bowers, Director of City Planning for Raleigh, notes that the city's historic parts – while small in area – loom large in public visibility. Raleigh has a variety of historic examples from different architectural eras, and those are the areas that define how people think about the city, according to Bowers.
Historically, the city's inside-beltline development progressed clockwise: Oakwood and parts of east Raleigh first grew from the downtown core. Hayes Barton developed in the 1930's, Wade Avenue and north of Wade in the 40s and 50s, and southwest in 50s and 60s. Classic architecture from all these periods now remains to tell of that time in that particular neighborhood.
"Historic architecture gives you a sense of place: where a town has come from and where it's going," says Don Davis, Vice-Chair of the Raleigh Historic Development Commission. "In Raleigh, we have neighborhoods like Boylan Heights and Oakwood, the Prince Hall district, Moore Square, and Method, but also individual landmarks that shape the picture of our city, like the Briggs Hardware building downtown or the 200 block of Fayetteville Street".
These landmarks convey an idea of what the city used to look like at different times, but the buildings also speak to the fabric of society, according to Davis. Architecture connects and informs the communities that use it, and it relates what it meant to live in a particular time and place. The Pope House on Wilmington Street, for example, lets us experience what life was like for early 20th century black, middle-class Raleighites. The recently demolished Velvet Cloak Inn many people recall visiting for special occasions in their youth told of mid-century celebrations and glamour in Raleigh.
Architectural historian Ruth Little agrees: "The experience that historic buildings give is to walk in the footsteps of those who went before. All the activity that happened before has made this place what it is now. We see that craftsmanship, those materials, the style, the scale. None of that is being built now. Raleigh has a lot of places that make it unique, that make it Raleigh."
Another thing that makes Raleigh unique is that many of its original neighborhoods are still whole. "When people compare Raleigh to Charlotte they often note that more of Raleigh's historic neighborhoods are still intact and have not fallen prey to highway development or other large-scale razing", Ken Bowers says. In fact, Raleigh's first Historic District was born from one of the city's earliest preservation battles: In the 1970s, the Oakwood neighborhood was threatened by a proposed North-South freeway to run through East- and Blount Streets. The community galvanized to stop the freeway and succeeded in getting the first Historic District mapped over that neighborhood.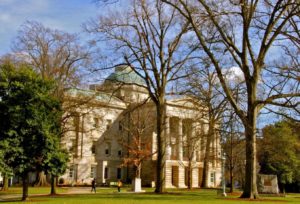 Raleigh's most recent discussions around preserving history vis-a-vis transit were this year around the planned I-40 widening. Another neighborhood that has already lost a lot of its original structures, Oberlin Village,  is now in the final stages of securing a Historic Overlay District for what remains from the State's largest post-civil war freedmen community.
But not all threats to historic architecture come from infrastructure projects or other external influences. Many times, erosion occurs organically and piecemeal from within a neighborhood. With changing times come changing tastes, and today's buyers often look for more spacious homes than those built in the last two centuries. Also, land in Raleigh has become a much more valuable commodity, and the fact that many older homes were built on ¾-acre or larger lots often spells their demise. Developers looking at those lots today realize they can fit three houses or multiple condos or apartments on a previously single-house space. With those calculations, many older buildings are torn down to build new.
What is the right balance? Some buildings or neighborhoods are considered worth an extra layer of protection for their architectural or historic significance, or to maintain the character of a period. This is the point where a formalized historic preservation process can be initiated to make demolition a last resort.
Raleigh currently has seven Historic Districts and 168 Individual historic landmarks that range from the capital building and well-known downtown structures to the more obscure, such as the old Carolina Pines Hotel on Tryon Road, a former golf resort now serving as a fraternity house. In style, landmarks range from Victorian Gothic to Modernist, and from modest homes to churches, schools, and stores.
If you are interested in seeing some of these landmarks, the Raleigh Historic Development Commission's app lets you see and tour all of Raleigh's historic landmarks. You can also learn about the city's Historic Overlay Districts on their site.
The next part of this series will explore the process of formal historic preservation in Raleigh, what it restricts and protects, and how it affects the value of those properties in terms of real estate, community, and tourism. Stay tuned!
MANY THANKS to Ken Bowers, Don Davis, Sarah David, Martha Lauer, and Ruth Little for generously contributing their considerable knowledge and insight for this article!
Photo Credits: Mary Sullivan (Fayetteville Street, Capitol Building), Raleigh Historic Development Commission (Pope House, Carolina Pines Hotel)