By Clodagh Bastian
– Raleigh's Citizen Engagement Task Force is nearing its deadline for recommendations to City Council this month. The group's mission is to flesh out what citizen engagement means and how community-municipality dialog can be improved, but one issue has been taking up much of the group's time to date.
Although not explicitly spelled out by its council directive, the task force has been attempting to define the role of citizen engagement in development and rezoning applications and working to craft recommendations for procedural guidelines in those cases – a task that is proving tricky and sometimes contentious.
Rezoning requests are made by developers planning project features that fall outside existing zoning regulations. These could include building height, density, set-back distances, prescribed usage, or other features. As rezoning applications tend to ask for increased utilization in some form, they can bump up against other interests, causing friction between neighborhood- and development proponents and sometimes taking on political hues.
Ongoing growth around Cameron Village and Hillsborough Street is one example of frequent rezoning negotiations, as is North Raleigh, where one prominent case arguably seated a new City Councilor in Raleigh's 2015 election.
Currently, rezoning applicants may present their project to the respective Citizens Advisory Council (CAC) in which it resides as part of the application process (full disclosure: this author currently co-chairs the Wade CAC). The idea is that the CAC, as representative of its community, facilitates information-flow and provides a forum in which neighborhood questions and concerns can be heard. CAC members can take a vote on a given request, results of which are conveyed to the Planning Commission. The Commission may then consider the CAC vote in its recommendation to City Council for approval or denial of the rezoning application.
In 2016, CAC leadership presented a plan to City Council for increasing rezoning cases' timelines and exposure to allow for more comprehensive community feedback. Subsequently, council assembled the Citizen Engagement Task Force (CETF) to review and recommend citizen engagement guidelines as a whole.
Deciding to address citizen engagement in rezoning cases before taking up other questions, the task force has made this issue its primary focus to date. Two concerns that have been voiced about the current CAC system are that chapters vary in representativeness and that votes reflect only those voices present at a given meeting (more on the CACs, their functions, and issues in an upcoming installment of this series).
The CETF is now considering whether to recommend removing the CAC vote completely from the rezoning application process. City staff and CAC leadership have divergent thoughts on this proposition, and both have reached out to the task force with suggestions.
City planning staff proposes that rezoning meetings should be organized, hosted, and facilitated by planning staff, with CACs and other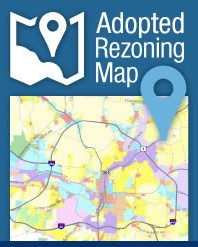 community entities (HOAs, neighborhood groups and the like) invited to provide comment. A meeting report reflecting that feedback would then be generated by planning staff and made available to participants and online.
CAC representatives argue that while planning staff reports are a vital piece of the rezoning puzzle, taking discussion leadership away from citizens would undercut community input. They also maintain that a single neighborhood meeting is often insufficient for community members to get up to speed on everything a rezoning application may imply.
The Citizen Engagement Task Force has spent the last week meeting in subcommittees around this question. The complete group will resume deliberations on Monday and is expected to agree on a rezoning engagement recommendation to Council then or shortly thereafter.
Once Council receives the recommendation, it will decide to accept or reject its proposals or send it back to the task force for more deliberation.
All Citizen Engagement Task Force meetings are open to the public to observe. Public comment is not allowed, but thoughts can be forwarded to the task force by index card. Meetings are held in room 305 of the Raleigh Municipal Building. Upcoming meeting dates and times are March 6, 6PM; March 14, 4PM; March 17, 9AM.
Citizen Engagement Task Force Series:
Raleigh City-Citizen Dialog Under Review
Coming Up:
Citizens Advisory Councils in Raleigh – A look at past, present, and future.
Citizen Engagement – what's next?